Hostel
Nya Skogsgården was originally built as a forrest station, and retains this charm over the years. The small but cozy hostel in the simple standard provides:
3 x 2-Bed-Rooms
2 x 3-Bed-Rooms
2 Kitchen (with Coffeemaker, Waterboiler, Microwave-Oven, 2 x 2 Plate stove, Refrigerator/Freezer
2 Bathrooms with Shower, Toilet und Washbasin
cozy dinette
overed porch with seatings

Dining room

/ lounge with

TV corner
Guest House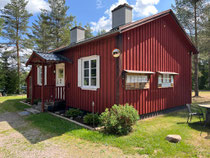 Our guest house can accommodate 6 persons.
It has 1 x 4-bed room, 1 x 2-bed room, 1 living room, kitchen, shower and a separate toilet.

If required, additional beds can be accommodated.

It can be rented entirely, but is offered at other times with individual rooms as part of the hostel.
Cabins / Cottages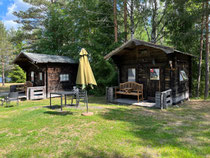 For accommodation are also 2 summer cottages for up to 4 people available. Each has a small Pentrykitchen with flowing water and a small terrace with garden furniture and parasol.
Tipi - tents
Live like indians. A complete new experience.